Rasta boys, Tyrone Marghuy and Oheneba Nkrabea emerged victorious in a suit against Achimota Senior High School (SHS) as an Accra High Court ordered them to admit the two Rastafarians back to the school.
On the threshold of human rights, The Human Rights Court 1 Division of the High Court, also ordered that Oheneba Nkrabea who formed the second companion of the rasta boys be accepted and admitted into the Achimota SHS.
Oheneba Nkrabea, one of the Rasta boys who was denied admission by Achimota SHS
READ THIS ALSO: Akufo-Addo Reveals Commitment To Capturing Murderer Of Ahmed Suale
The judgement was delivered in court on Monday, May 31, 2021.
Speaking after the judgment, Tyrone Marhguy said the court's decision was part of "a great story."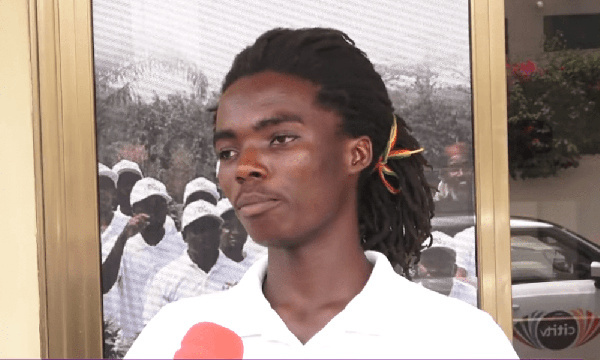 Tyrone Marghuy, one of the rasta boys Achimota failed to admit
"The first time I walked through the gate of Achimota, the first thing I did was to check the time [I arrived] because I knew one day I would be telling a story with it. I had no idea I would be telling one great story in the courtroom about how I was discriminated [against] and how I am back."
READ THIS ALSO: University Of Melbourne International Scholarships 2021 For Business And Economics Students
On March 19 2021, admission issues about the two became quite a spectacle on social media and later became the major topic for discussion on legacy media. The two rasta young men were denied admission by the management of Achimota SHS based on the school's regulations not to accept students in dreadlocks.
According to the parents of Oheneba Nkrabea and Tyrone Marghuy, Rastafarianism has been a part of the family and that of the boys since their childhood days and once its a religion and part of their culture they were not going to trim their hair since it is a violation of their fundamental human rights.
Article five of the 1992 constitution specifically talks about the protection of human rights and the denial of basic rights of people based on their religion, creed or sex.
It is in this light that parents of these children who had tried to negotiate with the management of the school to allow their wards to stay had to finally resort to the competent court of jurisdiction to interpret the law.
Amidst all these brouhahas, initially, the Ghana Education Service ordered Achimota SHS to accept these students but made a sharp U-turn and also asked Achimota school not to accept them again.