The opportunity to study abroad is now easy especially as the University College in London is offering the Denys Holland Undergraduate Scholarship.
Experience study abroad without spending a fortune! University College London is inviting applications for Denys Holland Undergraduate Scholarship for UK, EU, and Overseas students entering the university.
The studentship is open for enthusiastic international candidates who want to pursue an undergraduate degree program at University College London in the academic year 2021-2022.
APPLY FOR THIS OPPORTUNITY: Developing Solutions Masters Scholarships Programmes For Students From Africa, India And Commonwealth Countries
University College London offering the Denys Holland Undergraduate Scholarship
University College London is one of the world's leading multi-disciplinary universities that encourages students and believes that all fields of study can inform and enrich each other.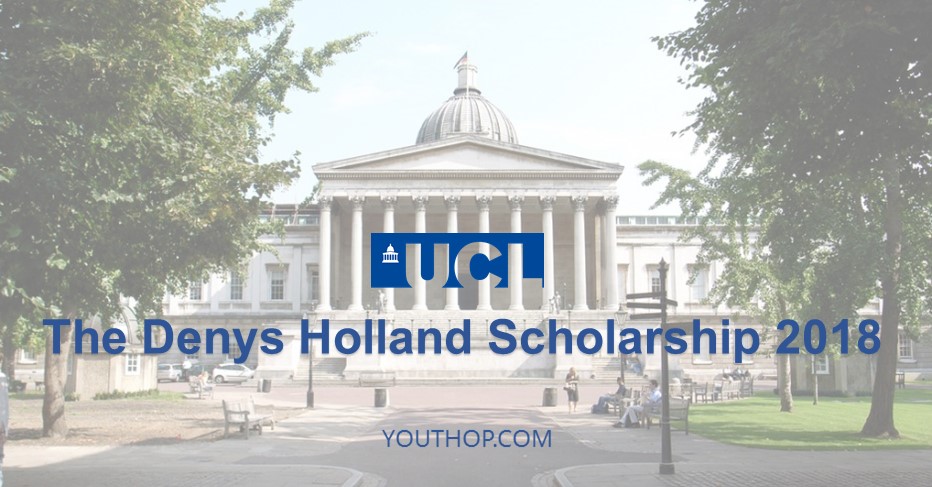 Eligibility Criteria
UK, EU and Overseas undergraduate students are eligible to apply.
Applicant must have a valid UCL Student Number or UCAS Application Number
Applicants must hold an offer of admission to UCL for full-time undergraduate study commencing in September 2020, in any department.
Applicant must be in financial need for education.
Applicant must be able to demonstrate that they have broad interests and intend to be actively involved in and contribute to the life of the university.
APPLY FOR THIS OPPORTUNITY: Australia Government (Northern Territory) Scholarships For International Students, 2021
Fields of Study
The scholarship is available for undergraduate students in various fields of study:
• Architecture, construction and planning
• Arts and sciences
• Biological and Life Sciences
• Business and Management Studies
• Computer Sciences
• Economics, Politics and Social Sciences
• Education
• Engineering
• English and Comparative Literature
• Historical and Philosophical studies
• Languages and cultural studies
• Law
• Mathematics and statistics
• Medicine and Allied Subjects
• Physical Sciences
• Psychology and Language Science
Benefits of the Program
The scholarship is worth £ 9,000 per year for three years, subject to satisfactory academic progress.
Students may choose to use the full or part of the scholarship to cover fees. Any balance is paid to the scholar as a maintenance award.
Application Procedure
Step 1: Apply for Admission
To start the application process candidates have to apply for admission in the bachelor degree program at UCL and have a valid UCL Student Number. This can be found on offer letter or email.
Step 2: Apply for Scholarship
After enrolling at the university, candidates can download and complete the scholarship application form. The form should be sent to the studentfunding@ucl.ac.uk.
Entry Requirements for the Denys Holland Undergraduate Scholarship
Applicant must meet the entry requirements of the university.
Candidates are required to hold their previous degree certificate.
English language requirements:  If English is not the first language then the applicant should provide recent evidence that your spoken and written command of the English language is sufficient for the programs for which you have applied.
Required Documents
Applicants are required to hold the following documents to apply for the scholarship. Applicants will be required to detail their current outside interests and indicate areas of nonacademic activity which they would hope to pursue while a student.
Frequently Asked Questions
Questions- What kinds of grants are available at the university?
Answer-Grant schemes include scholarships, awards, awards, medals, bursaries, and loans. These may be awarded to UCL at the central departments or by external organizations.
Questions- How do I know if I am successful?
Answer-Successful applicants will be notified by email, and an official award offer will be received by post to the mailing or correspondence address provided in your application.
Application Deadline: 11.59pm BST, Friday 2 July 2021
Follow the link below to be part of a group of people who would have first-hand information when it comes to scholarship positions and employment opportunities.
JOB AND SCHOLARSHIP APPLICATION GROUP.