Prophet based in Nigeria, Temitope Balogun (TB) Joshua passed on painfully after serving the Christendom community with his Synagogue Church of All Nations (SCOAN) but was pronounced dead yesterday, 5th June 2021.
It was alleged that on Saturday, 5th June 2021 the Prophet made his last prophetic words and these were captured on his official Facebook page, "Time for everything, Time to come here for prayer, and time to return home after prayer".
READ THIS ALSO: "Lexis Bill Is Good In Bed" Abena Korkor Reveals After An Instagram Expose
We want to look at some of the things that Prophet TB Joshua did to inspire the poor and the needy throughout his lifetime that wasn't really known and even if known might have been forgotten now.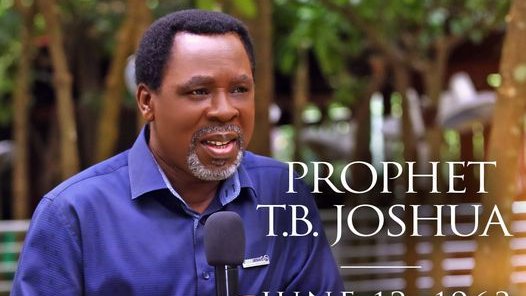 Some notable things Prophet TB Joshua did before he was pronounced dead
He fed Widows and Orphans
Widows and orphans were very dear to his heart and on several occasions, he did a lot of good deeds towards them. Apart from feeding some of them he also gave large sums of money to widows and other orphanages all around Nigeria and some other African countries.
READ THIS ALSO: Students Of Oti Boateng SHS Eat Under Trees After Dining Hall Gets Destroyed
A particular case in point is was the provision of support to a widow in 2014 whose name was given as Philomena Sunday. Philomena, after bearing ten (10) children lost her husband and had to resort to scavenging for food, doing laundry at people's homes just to make enough to provide food for the family.
However, upon hearing the sad state this widow found herself in Prophet Joshua who has been pronounced dead offered to support her with N 500,000 Naira and offered to help cater for the children's fees amidst the promise of taking care of them.
Prophet TB Joshua created employment
Even before he established Emmanuel TV, he had used his influence as a leader to provide employment opportunities for many youths. Interestingly, the establishment of his Television station, Emmanuel TV gave further job opportunities to some youths especially those who belonged to SCOAN.
Among the things mentioned above, he also did a plethora of things to make the lives of people very comfortable. He gave people seed monies to start their own businesses, created more jobs and helped people to get jobs, paid and supported people's education.
Prophet Temitope Balogun Joshua was born on  June 12, 1963, at Ondo State, Nigeria. According to the website of Synagogue Church of All Nations, Joshua was born after spending extra six months in his mother's womb but died at age 57.
Prophet T. B. Joshua was a Nigerian pastor, televangelist and philanthropist, who also doubled as the leader and founder of The Synagogue, Church of All Nations (SCOAN) which was broadcast live on his own established  Emmanuel TV television station which is based in Lagos, Southern Nigeria. The channel is both on digital and terrestrial platforms.
SOURCE: Thomas Adjei