Rosemond Alade Brown popularly known as Akuapem Poloo, has finally found her twin sister in the person of American female rap sensation, Cardi B, after the latter posted Akuapem Poloo's picture on social media handle, Instagram with the inscription, my twin.
In an insagram post, Cardi B shared the picture of Akuapem Poloo looking very attractive and neat in her apparel with the caption "My Twin". This has sent the Ghanaian actress mad with many others on social media having to eat humble pie, after the actress was mocked for being the reason for Cardi B's late meet up.
However, lady luck seem to smile at the actress as she recognized Akuapem Poloo with that post. Akuapem Poloo also took to social media to hype and shame her supposed detractors.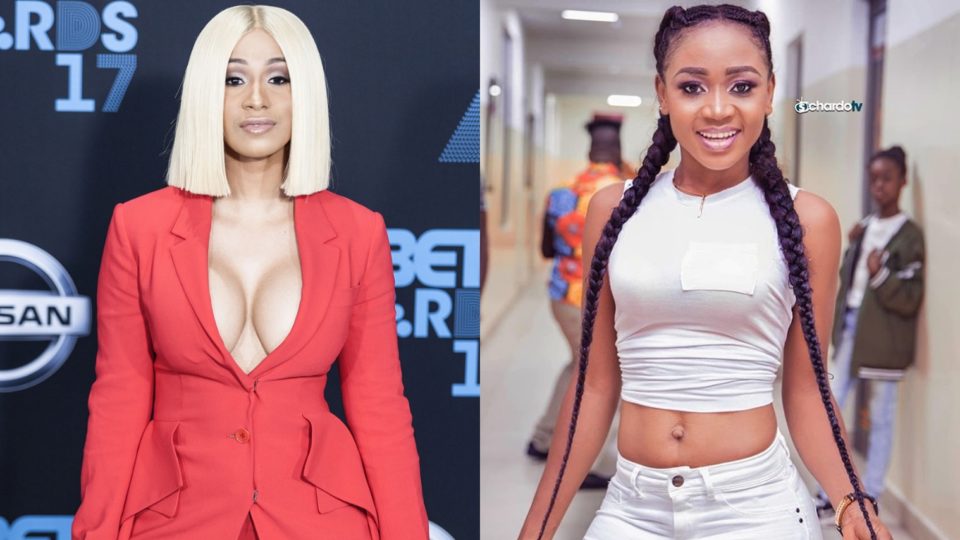 "My beautiful sister repeated it again ooo. She said Akuapem Poloo my twin," said the elated television personality in an Instagram post.
To put the icing or cherry on the cake, Cardi B now follows Akuapem Poloo on Instagram and this has gone beyond her wildest imagination and dream.
"Jehovah!" she exclaimed. "I'm still in tears. Eii, Rosemond Alade Brown! I'm blessed. Cardi B, God bless you for me" she quickly posted on Instagram. The joy seemed to be endless as she continued to make a fuss about the whole "twinny" affinity as she thanked her for putting a smile on her face.
"Thank you Cardi B for putting a smile on my face. People said I was the reason why you didn't show up in the afternoon, you see me like a monkey but my beautiful twin sister proved them wrong. Aww Cardi B, you are real because real recognize real," she said.
Akuapem Poloo has often been in the news for bad reasons ranging from nude pictures to street twerks with Bukom Banku and other scandals, but still remains resolute regardless of her weird behavior, which shot her to fame.
BY: ONESIPHORUS OBUOBI