The Minister for Information, Mr. Kojo Oppong Nkrumah has today Thursday, 1st April 2020 launch the COVID – 19 National Information Contact Centre.
At a press conference today in Accra, Mr. Kojo Oppong Nkrumah revealed that as part of government's plan to fight the coronavirus pandemic in Ghana, the government has launched a Coronavirus National Information Contact Centre.
This information centre would provide exclusive information concerning government's activities including distribution of personal protective equipment, information about lock down and even reporting suspected cases could be done easily.
" The government of Ghana is this morning deploying a National Information Contact Centre. Now colleagues, we have already announced the use of the national emergency contact number, "112". Now you will call "112", if you feel like you are having symptoms and you need to be tested. You call "112" and we will send someone over or direct you to where you can go take a test".
He therefore added that in addition to "112", a new number, "311" has been added. This would provide more information to the general public, give real time information about restrictions and lockdowns, provide a room for health practitioners who are in the front line to report any incidence on item distributions like "PPE's" and many more especially with the addition of a whatsapp interface (0555311311).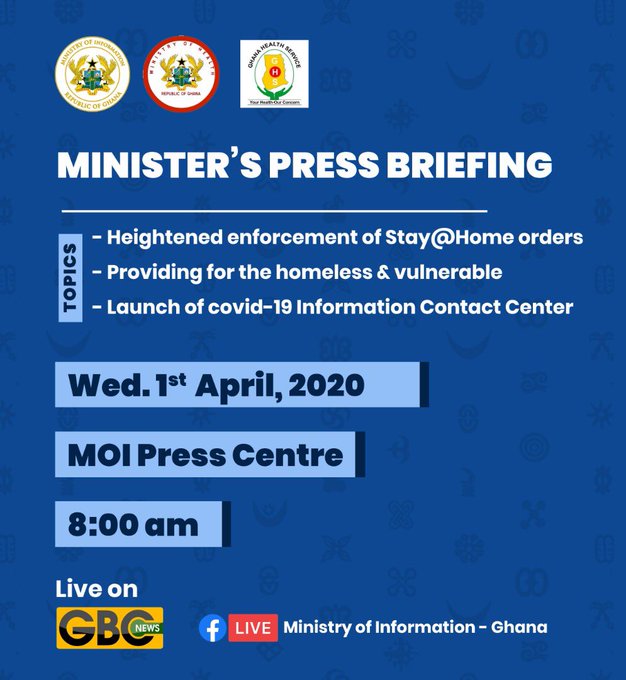 "In addition to 112, we have this morning announcing contact number, 311. It will provide the following services.
1. It will provide information to the general public on COVID 19.
2. If you need real time clarifications on restrictions you can call 311.
3. We have sent out a lot of PPE's across the country. So if you are a health worker and you want to give us the status of PPE's in your facility, you can call 311 and we can feedback to those who are distributing.
4. During this period of restrictions, observations of restrictions or the lack of observations that you want to draw our attention to, you can call 311.
It is my understanding that there is a new whatsapp interface that has been added, and the number is 0555311311″ he noted.
According to the Health Minister, Mr. Kweku Agyemang Manu, the Ghana Health Services will soon hit high-risk communities in the Ashanti region and the Ayawaso West Municipal Assembly (AWMA) with compulsory house-to-house testing of people suspected to be carrying the coronavirus.
In addition, Mr. Agyemang thus revealed that about 38 persons who tested positive for COVID 19 in the Ga East District have been discharged for home care while they await the second test result, after the first one after recovery tested negative.
BY: ONESIPHORUS OBUOBI