Carbo Coso also known as Cape Coast was founded by the people of Oguaa. It is one of the most historical cities in Ghana sharing a lot in common with the German city of Bonn. Just like Bonn, Cape Coast was the ancient and first capital of the nation, producing the creme de la creme in the Ghanaian society.
Sons of the land like John Mensah Sarbah, one of the finest lawyers to have graced the land of Ghana and others like:
Philip Quaque: 1741–1816; first ordained African clergy of the Church of England.
King John Aggery Essien: 1809–1899; King of Cape Coast, pioneer Pan-Africanist.
James Robert Thompson: 1810-18-86; pioneering educationist.
Francis Chapman Grant: 1823–1889; founding member of the Fanti Confederation; cousin of Ulysses Grant.
Robert Hutchison: 1828–1863; statesman, soldier, philanthropist.
Jacob Wilson-Sey alias Kwaa Bonyin: 1832–1902; millionaire, philanthropist, founding member of the Aborigines' Rights Protection Society.
John Sarbah: 1834–1892; educationist, merchant, industrialist.
James Cheetham: 1834–1902; merchant, member of the Legislative Council of the Gold Coast.
Herbert Taylor Ussher: 1836–1880; early administrator
Andrew William Parker: 1840–1912; conscientious nationalist, fought in the Ashanti Expedition.
Joseph Peter Brown: 1843–1932; patriot, statesman.
and a host of other important figures played very significant roles in the history of the land and Ghana in general.
In 1650, the Swedes built a lodge that would later become the better known Cape Coast Castle, which is now a World Heritage Site. Most of the modern town expanded around it. The Dutch took it over in 1650 and expanded it in 1652. It was then captured by the British in 1664.
Interestingly, trade was an important motivator in the creation of fortresses and settlements on Cape Coast. Traders from various European countries built these trading lodges, forts and castles along the coast of modern Ghana.
Unfortunately, the acquisition of gold, slaves, honey, and the many other goods that composed the African leg of the Triangular Trade was increasingly detrimental to the inhabitants of Cape Coast.
 In 1874, the British dominated all European presence along the coast of modern-day Ghana using Cape Coast as their base of operations, Gold Coast. With the establishment of formal colonial administration, they relocated to Accra following opposition to the "window tax" in 1877.
 Accra thus assumed their state of operations as well with the Cape Coast Castle being the available and secured means where most of the slaves were held before their journey on the Middle Passage.
Covid 19 flames in Ghana
Ghana reported its first case of the deadly coronavirus on March 12, 2020, when the Health Minister, Kwaku Agyemang- Manu confirmed it after a test result from the Noguchi Memorial Institute for Medical Research confirmed that the case was positive.
The cases, according to the Health Minster, Kwaku Agyeman-Manu, were confirmed on Thursday, March 12, 2020 after test results from the Noguchi Memorial Institute for Medical Research proved positive for the virus.
"Both individuals returned from Norway and Turkey. So these are imported cases, " Mr. Agyeman-Manu said.
He said both patients are being kept in isolation and are stable.
" We wish to assure Ghanaians that the government together with all health partners will continue to work assiduously to ensure the situation is contained, " he said.
Meanwhile the public have been asked to practice good personal hygiene to keep themselves and their families healthy.
However, after just 17 days of infection period in Ghana, the statistics have soared up greatly.
As of 14:00 hours on the 28th March 2020, a total of 2,519 persons have been tested for COVID-19 in Ghana. Among the tested, 1,276 (50.7%) were persons under mandatory quarantine with 1,243 (49.3%) from routine surveillance activities. Among all 2,519 persons tested, one hundred and forty-one (141) tested positive representing 5.6%.
COVID – 19 GHANA CASES SUMMARY – (CITINEWS)
Updated: 29th March, 2020 | 12:05 GMT
| | | | |
| --- | --- | --- | --- |
| Confirmed Cases | Deaths | Recovered | Current Positive Cases |
| 152 | 5 | 2 | 145 |
Among persons under mandatory quarantine, 79 representing 6.2% tested positive. Among samples tested from routine surveillance, sixty-two (62) representing 5.0% tested positive.
Only three regions have so far reported cases- the Greater Accra, Ashanti and Upper West Regions from routine disease surveillance. One case has been confirmed in the Upper West Region. The Ashanti Region has recorded 7 of the 8 cases recorded outside the Greater Accra Region. All other 54 cases from routine surveillance were recorded in the Greater Accra Region.
A total of 731 contacts of confirmed cases are currently being followed up by the contact tracing team. Among contacts, 53 were found to have symptoms and 48 have been tested with one person testing positive.
Two hundred and thirty-one contacts have completed the mandatory 14-day follow-up
CASES BREAKDOWN
Breakdown of 141 total cases
With the new update, the number of confirmed cases within the general population is now 62, including five deaths and two recovered patients.
Those who have tested positive for COVID-19 within those under mandatory quarantine is 79.
Regions affected
So far, cases have been confirmed in the Greater Accra Region, Ashanti Region and the Upper West Region.
Upper West region – 1 case
Ashanti Region – 7 cases
Greater Accra region – 54 cases (excluding those under mandatory quarantine)
DRASTIC PRESIDENTIAL MEASURES TO REDUCE SPREAD OF COVID – 19
Accra, Kumasi lockdown
President Nana Akufo-Addo, on Friday, March 27, 2020 declared a partial lockdown of Accra and Kumasi effective 1 am on Monday, March 30, 2020.
During the two-week partial lockdown of Accra and Kumasi from Monday, March 30, the over 3.2 million residents in these areas have been advised by President Nana Akufo-Addo to only leave their homes in search of essential items or activities.
Among these essentials listed by the President are food, medicine and water.
This will be the first time under Ghana's Fourth Republic that a President has stripped away a significant number of basic freedoms of citizens in the stead of other African countries like Rwanda and South Africa which have imposed strict curfews and shutdowns in an attempt to halt the spread of the novel coronavirus.
Nothing at stake in Cape Coast
One worrying trend that seems to be creeping up in Cape Coast and some parts of the Central region, namely Elmina, which falls under the Komenda Edina Eguaafo Abirem Municipality is the lackadaisical approach to life in the municipality and metropolis.
While the Chief Executive of the Cape Coast Metropolitan Assembly, Mr. Ernest Arthur is leading a team to educate persons at the various places and distributing hand sanitizers and veronica buckets to prevent the spread of the virus, others are also drumming his efforts down to continue to do things that puts the metropolis in pole position to spread the virus.
Of course, this may sound absurd at the first glance, but that is the stark truth.
Refusal to adhere to Social Distancing
One of the main reasons the president had to evoke the restriction Act 2020, was to allow for social distancing. This phenomenon or practice would therefore mean that one would need to keep at least an arm's length distance from each other.
It is against this development that schools from all levels were closed, church services, conferences, political rallies and other religious services closed and banned temporarily within the covid season.
The various markets in the metropolis are guilty of this as scores of people keep touching each other, and hugging customers and friends whom they haven't seen in a while at their various shops. Failure to open up would mean, you are uncouth and lack basic courtesy according to their standards.
Interestingly, some of the youth in the Cape Coast Metropolis believed that by playing football, they build their immune system and prepare themselves, physically, since an exercise would boost their immune system.
"Jack, this football has nothing to do with social distancing. What is that at all? So is it now wrong to exercise and get fit. Listen if we are fit, there is no way the virus would affect us" an obviously ignoramus statement one of the young men who plays on the "coronation park", a suburb of Cape Coast told me when I asked if he had heard of the social distancing.
The shock occurred, when children were also street hawking, a practice that is most likely popular in many towns in Ghana. But the biggest one came when two girls of school going age approached me at a popular drinking bar to patronize their services, sex.
The children selling brooms had to walk from the Southern side of Cape Coast to the Northern side of the Metropolis just to sell brooms especially at a time where people are being advised to stay indoors.
The thought of some minors engaging in this ancient profession especially in these unusual times was quite unusual to me even though on a normal evening around "Hacienda", a formerly vibrant Drinking pub one could witness such scenes.
It seems social distancing is missing in the books of some Cape Coasters as they party at some popular beach pubs and at the beach under the notion of preventing themselves from coronavirus as a plethora of them drink the salty sea water.
No veronica Buckets Syndrome
A tour around some of the major markets and shops in the Cape Coast Metropolis is much of a mixed mood. Some shops have absolutely no idea of what it means to have a veronica bucket.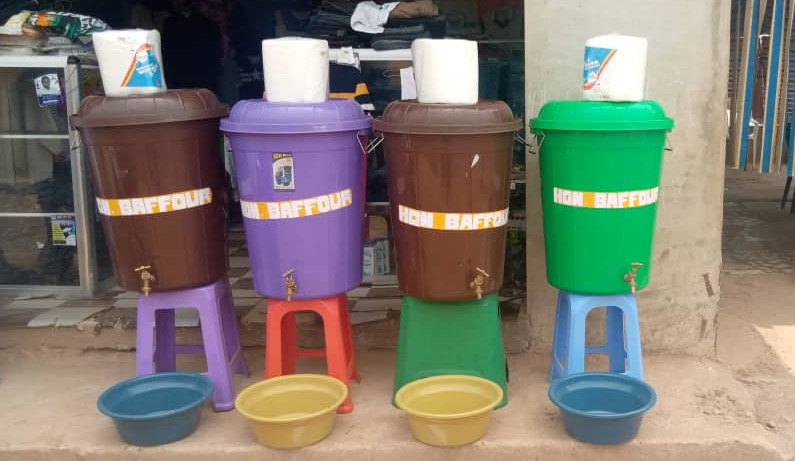 Even with the others who have them at their shops at the market centers, there are no tissues to wipe one's hand with.
The only exhilarating and breadth sighing moments are the trips to the corporate institutions and some other supermarkets who have taken it upon themselves to do what is right, by providing the veronica bucket, tissues and extra hand sanitizers and dedicated special staff, who insist and ensure that one's hands are thoroughly washed before they touch surfaces. Especially at the Stadium Restaurant, the surfaces are disinfected almost every 20 mins after I observed critically.
For a certainty, this town filled with rich resources seems to be conducting itself in ways that makes it easy for the virus to be spread at a "Usain Bolt" rate. The biggest responsibility now lands on the shoulders of the Assembly and its members, but most especially, the culprits.
As a partial restriction has been instituted, will it awaken in the residents of Cape Coast to put things in the right perspective?
BY: ONESIPHORUS OBUOBI