One of the major aspects of Ghanaian culture is the sense of religion. Almost everyone belongs to one religion or other. Some may profess to be Christians, Muslims, Traditional movements and the rest may be spread across the other religions. However, one thing that eludes most religious fanatics in Ghana is the fact that God heals at the Hospital instead of prayer camps.
The concept of healing is not a novel one especially considering the avalanche of miracles performed in the Holy books. Ranging from the healing Jesus Christ did and what modern-day healers do. For a certainty, this gives us enough evidence that healing is not new to us.
Overspiritualization; the bane of health care
As a result of the spiritual nature of Ghanaians, sometimes when persons are ill, they are sent to these prayer camps. Well, for some people this act is only a sign of over spiritualisation. This conundrum is obviously a sole part of our lives as Ghanaians. This phenomenon is deeply rooted in most part of our lives.
Over spiritualization has formed part of our every nibble of life. From academics, romance, career, health and well being, there is always a spiritual factor. Majority of Ghanaians will always ascribe some sort of spiritual connotation to every form of activity in their life.
Additionally, the religious dictates of lots of Ghanaians also push them to make certain decisions. Some have directly been told to be harmed by witches and wizards, and as a result, they wouldn't visit the hospital for care.
Akua, who believes had her healing and salvation from a serious ailment nearly died till she was rushed to the hospital. Akua had been battling with asthma for some time. However, her religious father advised that she sleeps with the Bible on her chest each time she gets an episode. On one occasion, she narrates,
"it was as if the world was coming to an end. I suddenly lost breadth, gasping for my life, I felt weak and dizzy. The Bible was within my reach and that wasn't my option; I took my pump which I hid under my pillow and that was when I knew God heals at the hospital".
For persons like Akua, the Bible was not a recommendation any longer. Of course, this work is not endorsing a religion or tarnishing a religion, but drawing the distinction between common sense and over spiritualization.
READ ALSO: Edina Bakatue Suspended Due To Covid-19 Directives On Large Gatherings.
The chains of Healing from the God of Miracles at Prayer Camps
In 2014, The Human Rights Watch online portal reported of some inhumane practices that went on at some prayer camps. In the report, we were introduced to a 10-year-old girl, Victoria, who was at the Nyakumasi Prayer Camp in the Central Region.
Like a stubborn pig, she was covered in dirt, chained to a tree and subjected to the same fasting regime as the adults. In addition, she had some sort of skin disease and crusting bumps on her arms, but it was left untreated.
Sadly, the leader of Nyakumasi Prayer Camp told the reporters, "The Lord will heal the people through me. Through fasting…I use to heal the people". These are very popular comments that emanate from prayer camps where they forget God heals at the hospital as well.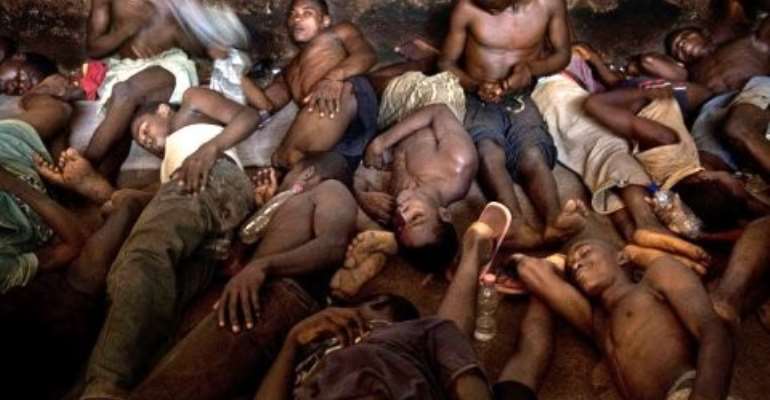 Prayer camps seem to be more than libraries where knowledge could be gained. Interestingly, the mode of healing at these prayer camps especially for persons with mental challenges is very devastating.
Aisha was in her mid-50s, and was once at the Mount Horeb Prayer Camp in the Eastern Region of Ghana, had her share. She was only allowed to bathe twice a week and had to defecate in a bucket with other inmates.
DOWNLOAD THIS: Eno Barony ft Kelvyn Boy – Cheat
One, therefore, wonders if health or healing is done in pains and chaining amidst the curtailing of rights. Unfortunately, many households are quite adamant to these health hazards. Kwamena, whose real name has been concealed tells of his experience when he was sent to one of the prayer camps.
Kwamena tells Obcommunication.com the ordeal he went through at one of the prayer camps. After catching his cheating girlfriend in bed with his own cousin, he lost it. As a result, his family felt the best choice was a prayer camp.
" The entire room was filled with the smell of urine. We were packed in the room like prisoners. Some of us are not really insane, but society and healing process worsen our condition".
Obviously, these words of Kwamena gives us an insight into what goes on at these healing sites. In that same report by the Human Rights Watch, they encountered Aisha.
Even though the government has been loud against the use of such cruel means, the acts are still being perpetuated. For instance, in 2018 till date, Mount Horeb Prayer Camp in Mamfi, in the Eastern Region still practices that.
Patients are chained like wild animals to trees and are denied food in the name of fasting. Shantha Rau Barriga, disability rights director at Human Rights Watch once noted that "Hundreds of people with psychosocial disabilities are still shackled like cattle,".
God Heals at the Hospital, a fact and means of saving lives.
The understanding of diseases and health conditions in Ghana begs for a lot of answers. People are scared of going to the hospital or health facility because of some reasons. Many have complained of some subtle form of corruption at the hospitals.
"Sometimes, we all go to the hospital and submit our cards, but people who are in your category and not older enjoy quick services". Desmond told Obcommunication about this ordeal at the Cape Coast Teaching Hospital when he had sat for long-only for another patient to be given preferential treatment.
Although these are some challenges, it is certainly better than sleeping in a dark dense room. Perhaps, the stench from a closely parked room could cause a lot of health issues.
Moreover, when some health officials demonstrate unprofessional attitudes, it may discourage you. Well, though such emotional feelings are normal, it doesn't last forever. The thought of getting healed is enough compensation. This, however, cannot be guaranteed at a prayer camp, where people are chained and denied food in the name of dry fasting.
All in all, the decision for good health care depends on the family and the individual; but a form of health care that dehumanized and infringes on one's right is an affront to humanity.