A bomb explosion attack a restaurant in the southern part of Somalia, specifically in the town of Baidoa has killed six people, some officials have told the BBC.
There has also been a suicide bomb attack close to the port of the capital of Somalia, Mogadishu, which injured at least seven but this time, it wasn't a restaurant attack.
Militant group al-Shabab said it was behind both incidents.
The UN-backed government has been battling against al-Shabab for control of the country for more than a decade.
The militants, who are allied to al-Qaeda, said that in Baidoa they were targeting tax collectors, who were holding a meeting at the restaurant, and soldiers.
They added that two soldiers died in the attack but officials said the victims were all civilians.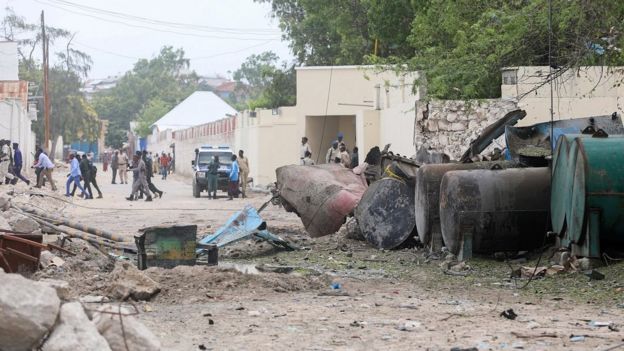 Police told the BBC that in Mogadishu officers opened fire on a vehicle after it failed to stop at a checkpoint.
The suicide bomber driving the car is said to have tried to hit a police post in front of the port but the security forces shot him and the vehicle exploded.
Two police officers and five passers-by were wounded.
"Metal debris fell all over us inside the port and we heard gunfire," a port worker told Reuters.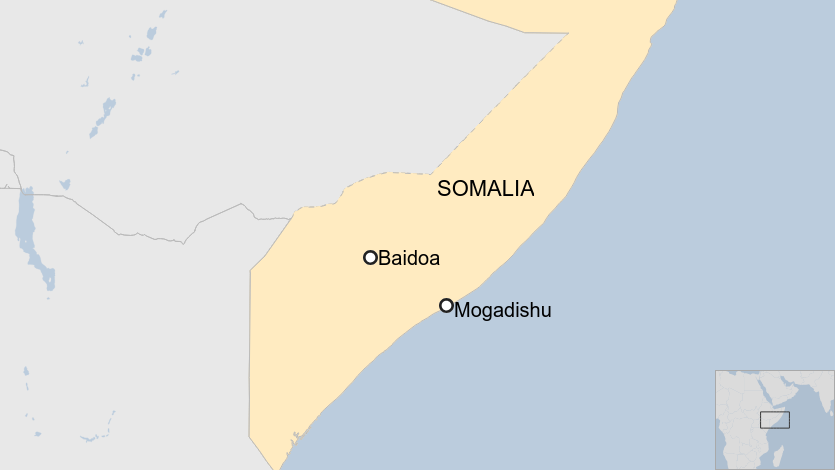 A chronology of key events before the Somalia restaurant attack in 2020:
Somali capital: Mogadishu
The old port: Historic heart of Mogadishu
Emerged as Arab settlement in 10th century
Bought by Italy in 1905
Capital of independent Somalia from 1960
Estimated population: 1 million
The Horn of Africa has been home to Somalis since ancient times.
13th-17th centuries – Ajuran Sultanate dominates much of the Horn of Africa before collapsing into rival regional sultanates.
1875 – Egypt occupies towns on the Somali coast and parts of the interior.
1860s – France acquires foothold on the Somali coast, later to become Djibouti.
1887 – Britain proclaims a protectorate over Somaliland.
1888 – Anglo-French agreement defines the boundary between Somali possessions of the two countries.
1889 – Italy sets up a protectorate in central Somalia, later consolidated with territory in the south ceded by the sultan of Zanzibar.
1925 – Territory east of the Jubba river detached from Kenya to become the westernmost part of the Italian protectorate.
1936 – Italian Somaliland combined with Somali-speaking parts of Ethiopia to form a province of Italian East Africa.
1940 – Italians occupy British Somaliland.
1941 – British occupy Italian Somalia.
SOURCE: BBC.com