Image Source: aces.edu
Coronavirus has led to wide spread stigmatization leading to the blatant refusal of some infected persons to do the needful, call the health authorities.
A taxi driver stealthily parks on the fringes of the road that has a sign post boldly inscribed on it" No parking". He gets out to urinate just opposite a new construction firm, where some Philippino contractors are busy with their tools assiduously.
All of a sudden, one of the Philippino's passed out at the yard. A multitude of crowd suddenly gather around him observing social distancing, thus standing about four meters from this young man who needed help. They all stared at the unfortunate incident till the foreman appeared there with some other local nationals, but the natives refused to touch the dying young man.
The taxi driver after sprinkling the last drops into his dress, quickly, dashed into his car and sped off at the sight of the two Philipinos.
The narration above is not a scene in an action film or a novel, but the stark reality of what some foreign nationals and some suspected persons believed to be infected by the deadly coronavirus are experiencing.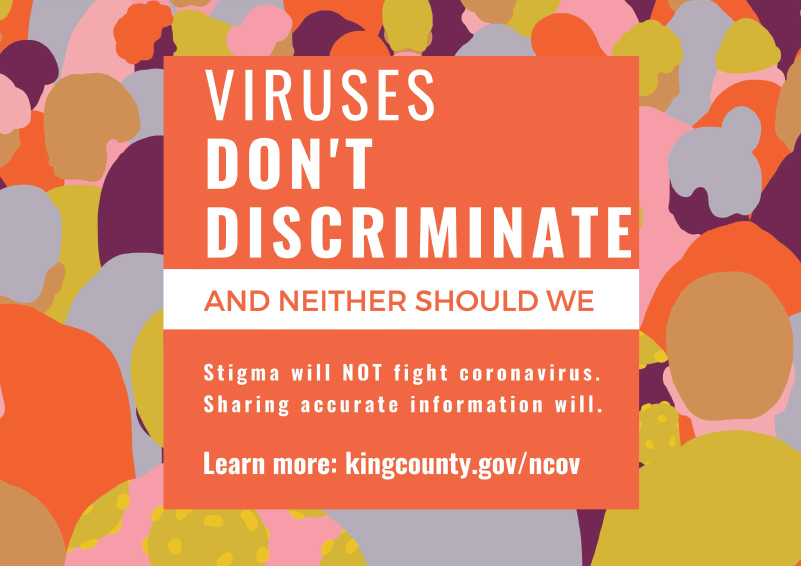 Incidents such as that are on the rise. Asians,Americans, people from lockedown areas are not given the best of services and are even scared to reveal where they've traveled from simply because they would be discriminated.
The scale and severity of the COVID-19 pandemic clearly rises to the level of a public health threat that could justify restrictions on certain rights, such as those that result from the imposition of quarantine or isolation limiting freedom of movement.
At the same time, careful attention to human rights such as non-discrimination and human rights principles such as transparency and respect for human dignity can foster an effective response amidst the turmoil and disruption that inevitably results in times of crisis and limit the harms that can come from the imposition of overly broad measures.
Stigma is when someone sees you in a negative way because of a particular characteristic or attribute (such as skin colour, cultural background, a disability or a mental illness). When someone treats you in a negative way because of your mental illness, this is discrimination.
Stigma happens when a person defines someone by their illness rather than who they are as an individual. For example, since we find ourselves in the COVID – 19 season, a clear case of stigma is what has been narrated above.
People refuse to attend to you, abandon you, and would hardly offer you some services because you are out of the "ordinary" human being and you have a problem to deal with. It comes with its own dire consequences.
"Imported Cases" – Miscommunication
Generally speaking,stigma during covid 19 can be traced to some of the phrases used by the media, "Imported cases" connoting cases that are brought into the country solely by foreigners or persons coming from overseas.
Mr. Edgar T. Akonnor from the Sociology and Anthropology department of the University of Cape Coast explained that the case definition attached to the virus, "Imported cases" is one of the major causes of the stigma associated with the virus.
"Persons who have certain attributes or characteristics because they belong to a special group are linked to the disease. As a result, once you have any of these traits or physical features to the places where allegedly any of the disease is coming from, you would be labelled and could attract this stigma".
This would thus explain why when one has a foreign accent, looks Asian, probably, from the Philipines, Taiwan, Japan or Korea, you would be discriminated against especially as we currently have the situation in China, as some Chinese believe the Africans living in Wuhan would spread the virus again.
One would therefore recall why in a viral video, some Ghanaians left a public means of transport when two Asian men joined the bus.
According to Mr. Edgar Akonnor,who spoke on the Atlantic Wave Morning Show on ATL FM, the case definition, "imported case" is a major cause leading to the stigma.
Interestingly, some victims corroborated this fact. Mr Nathanya Yehuda Halevi, a Diasporan returnee known to many as Rabbi Kohein, who is now the Executive Director of the PANAFEST Foundation revealed that a section of diasporans who have just returned and hither to were also around have become objects of stigma and stereotyping. 
According to him, some sections of the public including some traders at the market and some commercial drivers have even refused to transact business with our disaporan brothers, under the pretext that they have virus once they have the American accent.
"Unfortunately, a few members have reported that there have been some concerns in reference to stigmatization of them especially with their accent coming from the US, and people suspecting them that they carry the coronavirus".
Dr. Candace Larweh Martey, Head of the Liberty American School also shared her experience on citi news.
"There was a woman, black, British who was hit by a motor cycle. People trooped in to help her, but as soon as she spoke, with her British accent, everyone physically stepped away and left her on the ground bleeding and it turns out it was a health official from the British High Commission".
These are some of the ordeal that foreigners and even to some extent some front line health workers would have deal with because of the idea,"imported case" of covid – 19. However, there are some schools of thought that it would not amount to discrimination if one were to distance him or herself from anyone suspected to have the virus.
Information Management
Sometimes, how information about coronavirus is managed is quite unhelpful. The sort of grim imagery painted about the disease is a bit bizzare. According to Dr. Martin Morna, sometimes the commentary run on coronavirus issues is not so helpful.
Especially when it comes to image presentation and enforcement of stereotypes, our inadvertent manner of going about it sends a wrong signal and this leads to some form of discrimination.
Speaking on the Atlantic Wave Morning show on ATL FM, he questioned some of the methods of quarantine, where security personnel were detailed to guide these infected persons.
He reasoned that if it were not to protect these infected ones from physical or verbal abuse,then it would indirectly reinforce the notion that these persons are dangerous, hence society would have nothing to do with them.
"When I watched the news yesterday, my heart was broken, our attitude is wrong. Someone has got covid, then you go and put the person in a guest house and put security men around the guest house, what message are you giving to people? The idea is that person is a dangerous person."
Sometimes our failure to handle and manage information clearly is also a precursor to stigma. This because"sometimes you have to explain that the disease can be taken care of and that if one adheres to health protocols and directives, the disease can be managed".
Obviously, these words of Dr. Martin Morna,Head of Surgery, UCC, School of Medical Sciences should be the way forward to help mitigate against the fight to reduce stigma.
Fight the Stigma
It is of great importance to note that persons who haven't come into contact recently with a coronavirus patient and have not been infected, be it health worker or foreigner, cannot spread the virus.
However, if situations are not managed well, it could escalate and lead to more devastating outcomes than just stigma. Xenophobic attacks, extreme paranoia can set in and all these could set ablaze stigma as another form of pandemic.
The best way to deal with stigma as suggested by the Centre For Disease Control and Prevention unit is
Communicators and public health officials can help counter stigma during the COVID-19 response.
Maintain privacy and confidentiality of those seeking healthcare and those who may be part of any contact investigation.
Quickly communicate the risk or lack of risk from associations with products, people, and places.
Raise awareness about COVID-19 without increasing fear.
Share accurate information about how the virus spreads.
Speak out against negative behaviors, including negative statements on social media about groups of people, or exclusion of people who pose no risk from regular activities.
Be cautious about the images that are shared. Make sure they do not reinforce stereotypes.
Engage with stigmatized groups in person and through media channels including news media and social media.
Thank healthcare workers and responders. People who have traveled to areas where the COVID-19 outbreak is happening to help have performed a valuable service to everyone by helping make sure this disease does not spread further.
Share the need for social support for people who have returned from China or are worried about friends or relatives in the affected region.
The confirmed cases of the novel Coronavirus in Ghana have increased to 408 as the death toll also rises to eight.
This was confirmed by the Ghana Health Service (GHS).
"As of 10 April 2020, 23:00 HRS, a total of 27,346 persons have been tested with 408 being positive for COVID-19," said the GHS.
Out of the 408 confirmed COVID-19 cases, 205 were reported from the routine surveillance, 88 from enhanced surveillance activities and 115 from travellers under mandatory quarantine in both Accra and Tamale.
The breakdown of the 408 positive cases are as follows: four (4) have been treated, discharged and have tested negative, 394 cases have been categorised as mild disease on treatment, two (2) moderate to severe cases, none currently on ventilators and eight (8) have died.
BY: ONESIPHORUS OBUOBI